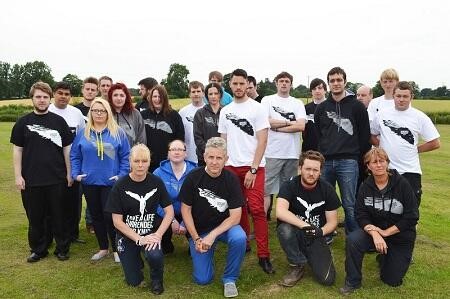 Lisa Jone-McNeil pays us a visit.
July 3rd – Lisa Jones McNeil
Lisa McNeil; Mother of 21 year old Danny Jones, visited the Centre today to show her support to our campaign. Lisa has shown immense courage in coming forward, it has been a real boost to the campaign to have somebody who has personally suffered at the hands of knife crime. Lisa tragically lost her son Danny in 2013 after he was fatally stabbed in the stomach whilst playing around with a friend.
The two where fooling around with a Lord of the rings replica blade when things got out of hand and ended in a needless fatality. Due to this senseless incident Lisa has been campaigning to prevent the possession of dangerous items and weapons.
We agree with Lisa that the sale of blades should be better controlled, a weapon in the wrong hands can cause disaster as we have seen. Stronger measures should be taken to ensure that replica blades are safe in the hands of those who may use them for the wrong reasons. We have seen in many tourist spots, the sale of replica blades as souvenirs. These types of weapons are seen as harmless, and are fully intended for the purpose of decoration, we'd like to see them stay that way.
That is why we are dulling down all our blades that are donated to us, and creating something beautiful. For the enjoyment of the public, and memory of the fallen.